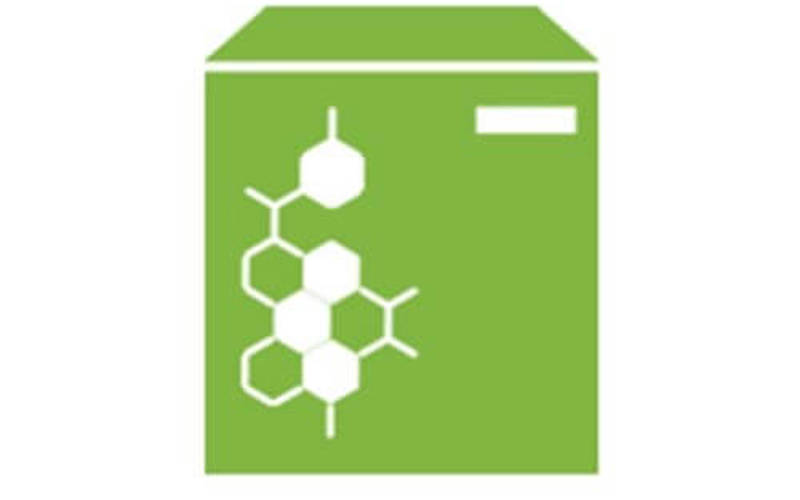 Published
18th February 2019
Peak Scientific's Chairman, Robin MacGeachy, sees first-hand the danger of storing nitrogen in dewars during a recent visit to Australia. Labs can remove the dangers of nitrogen cylinders or nitrogen dewars by using a nitrogen generator to supply their instruments.
First hand experience of the dangers of Liquid Nitrogen
At the time of writing, Peak Scientific's Founder and Chairman is visiting the Peak Scientific office in Australia. The trip will certainly be memorable as, while visiting a university, a liquid nitrogen dewar fell over into the road, just in front of Robin's car and started leaking, as you can see in the image below.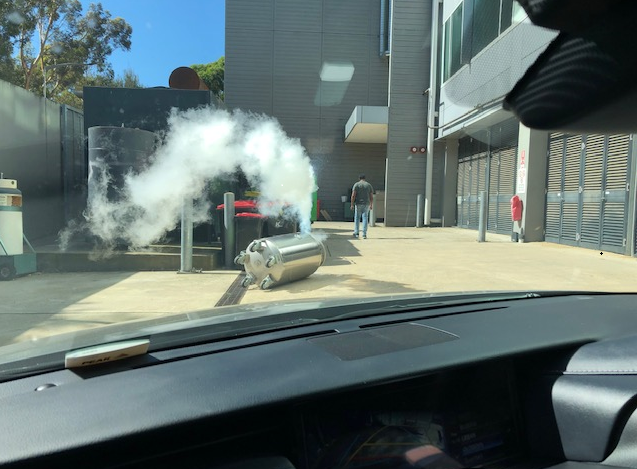 Unsecured liquid nitrogen dewar falls over and leaks at a university in Australia
Dangers of liquid nitrogen dewars
Storing nitrogen in unsecured wheeled nitrogen dewars is dangerous and clearly an accident waiting to happen. Luckily, neither Robin, his passenger or anyone at the University were injured, and Robin's car also escaped any damage. However, if the accident had happened just a moment later, the outcome could have been very different.
Even when liquid nitrogen dewars are properly secured, they are not the safest way to supply nitrogen gas to your laboratory. Storing thousands of litres of pressurized nitrogen can be very dangerous if the dewar or cylinder it is contained in were to be damaged or leak. In fact, were such a volume of nitrogen to leak indoors in a small lab, it could cause asphyxiation.
What is the safest way to deliver nitrogen gas to the lab?
Fortunately, there is a safer way to supply nitrogen gas to your laboratory. A nitrogen generator is the ideal solution for labs which require nitrogen gas for their analysis. Nitrogen generators from Peak Scientific produce nitrogen on demand as your instrument requires it, so they only ever store a minimal amount of nitrogen gas at low pressure which is never enough to present a danger in the very unlikely even that the generator develops a leak.
Nitrogen generators are also much more cost-effective and convenient nitrogen solutions for labs than dewars or cylinders. With nitrogen dewars which are stored outside, a piping infrastructure is required to pipe the gas into the lab which can be costly and is certainly an inconvenience while it is being installed. Nitrogen gas cylinders are also very inconvenient for labs as they must be regularly monitored to ensure they do not run out mid-analysis, not to mention the repeated orders that need to be placed, deliveries that need to be accepted and stored and the health and safety training required for staff who are given the unenviable task of having to change them over and move them around the laboratory.
These problems are completely eliminated with a nitrogen generator. Once a nitrogen generator has been installed in a lab it does not need to be moved. Nitrogen generators also do not need to be monitored for flow or purity as once they are switched on they will produce a consistent flow and purity of gas, as your instrument demands it, which never runs out.
If you use nitrogen gas in your laboratory and you want to make sure that what happened with this liquid nitrogen dewar in Australia doesn't happen at your facility, consider switching your gas supply to a nitrogen generator. As explained above, nitrogen generators will bring many benefits to your lab, particularly when it comes to convenience and safety for laboratory staff. If you want the peace of mind of having your nitrogen supplied by a gas generator contact us now or view our full range on nitrogen generators here.
You may also be interested in:
How much does a nitrogen generator cost?
What should you know before buying nitrogen gas?