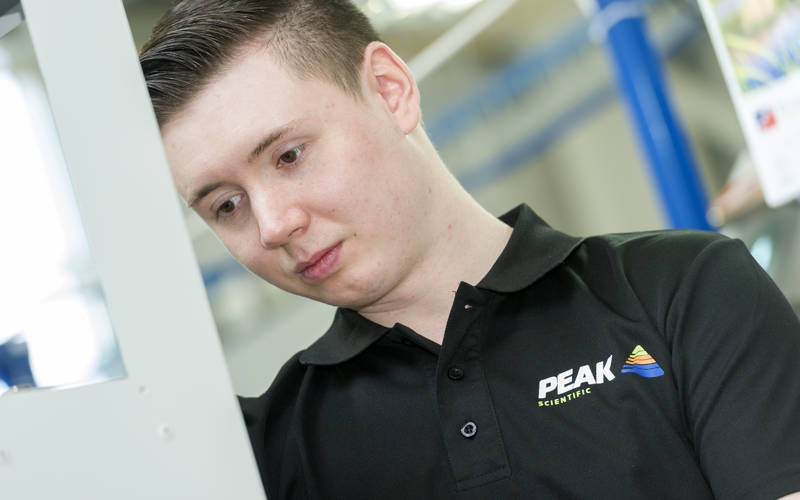 Published
5th November 2020
Peak Scientific Announces 7 New Job Openings for Engineering Graduates
Peak Scientific, the global leader in gas generation systems for analytical laboratories, today announced the opening of 7 new engineering graduate positions at its main facility and headquarters just outside Glasgow.
The new roles will include opportunities for graduates in different engineering areas such as design, quality, new product development and manufacturing. The successful candidates will work as part of Peak Scientific's fast-paced production facility, where gas generators are designed and manufactured for research laboratories across the globe.
Over the last decade, Peak Scientific has significantly expanded its business growth and capacity, reaching a headcount of over 500 employees across 20 global offices in every continent. As part of its growth strategy, Peak Scientific continues to develop its technology by investing in local talent and innovation. The candidates selected for these roles will have the opportunity to kick-start their career in engineering whilst receiving dedicated support along their journey.
Commenting on the new graduate engineering roles, Fiona Taylor, Global Head of Recruitment said, 'I am delighted to be welcoming on-board ambitious and high-calibre engineering graduates to the Peak family. It has not been an easy time for graduates seeking employment this year as a result of the global pandemic. We are pleased to have the capability to invest in local talent, despite this very challenging period. I wish all candidates the very best of luck in their application process.'
Graduates can apply for one or all positions by visiting the careers section of the Peak Scientific website here.