Published
7th August 2015
Advantages of using a lab gas generator over pressurized compressed gas cylinders.
Nitrogen gas generators hold many advantages over traditional gas supply methods such as cylinders, bulk storage or dewars. So why continue with the old approach of having to manage deliveries and storage of high pressure cylinders or heavy dewars, when you can generate as much gas as you need with a PEAK nitrogen generator in your lab? 
With nearly two decades of pioneering reliable gas generator technology, we know a thing or two when it comes to providing market-leading solutions for nitrogen, hydrogen and zero air in the laboratory.
PEAK Scientific's gas generators holds many advantages over traditional gas supply methods such as cylinders, bulk storage or dewars and in many cases can offer our nitrogen generators return on their investments in less than 18 months. Switching from cylinders to gas generators can bring many benefits, and the specific reasons for making that move will depend very much on your own circumstances. For most, there is the economic factor of a nitrogen generator - no recurring gas purchases and deliveries costs, unpredictable prices (gas prices are volatile depending on market) - but there's also matters of convenience and of safety. Let's take a look at how a nitrogen, hydrogen or zero air gas generator could benefit your laboratory:
 
Gas Generator
Gas Cylinder
Convenience
Produce gas on demand with consistent purity

Compact solutions available providing up to 3 gases

Once installed, the system needs only infrequent maintenance
Cylinder must be monitored to avoid running out of gas

Difficult to maneuver and requires frequent handling

A large cylinder bank or dewar can take up valuable work space

Depending on usage, cylinders can require frequent changeovers
Consistency
Consistent purity
Inconsistent purity from cylinder to cylinder
Economical
Fast payback/return on investment

Low ongoing costs

24/7 gas production

Increasing delivery and rental costs year-on-year

Instrument down-time during cylinder changeovers

Can run out at inconvenient times

Safe
Minimal gas storage volume Low pressure storage
Health and safety risk during transportation and handling

Gas stored at high pressures in large volumes potential for undetected leaks from pipework from cylinder banks
Environmental
No more deliveries or collections

Energy efficient

Reduced carbon footprint
High energy requirements for compression and purification of gas

Cylinders must be transported, often long distances by road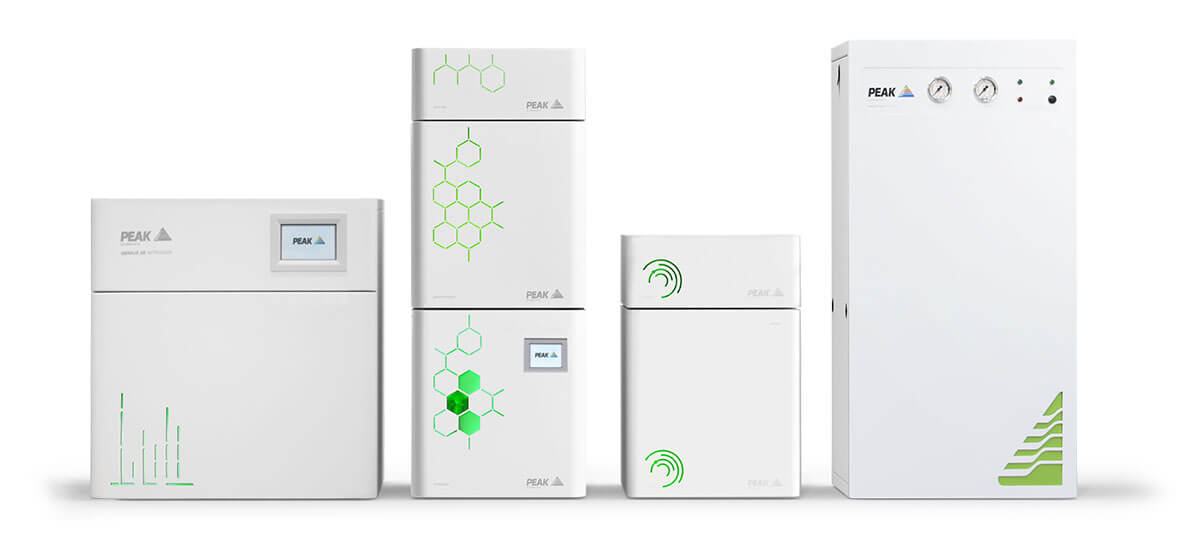 Our forte here at PEAK Scientific is in providing you the customer with a convenient, dependable and hassle-free gas generation solution tailored to meet your specific laboratory demands. We back this up with direct world-class technical and on-going service support wherever you may be in the world.
Whatever your laboratory size and gas requirements, PEAK has a solution to suit your needs.

Need help finding a solution?
We are experts in our field - with over 20 years' worth of experience in pioneering cutting-edge gas generator technology, we have worked closely with leading instrument manufacturers to help you find a solution tailored to your specific needs.