CVD & Hydrogen Gas Generators
Let Precision Hydrogen Trace power your CVD
You have CVD equipment: How can PEAK support you?
Many chemical vapor deposition equipment manufacturers can't provide a complete, safe hydrogen gas supply. At PEAK, we are able to supply you with everything you need for hydrogen production to manufacture CVD diamonds.
Traditional cylinder supplies increase health and safety risks and introduce inefficiencies into the CVD production process. PEAK Scientific's on-demand Precision hydrogen generators will provide around the clock supply of high purity hydrogen gas whilst reducing the time you spend monitoring, changing, and ordering cylinders.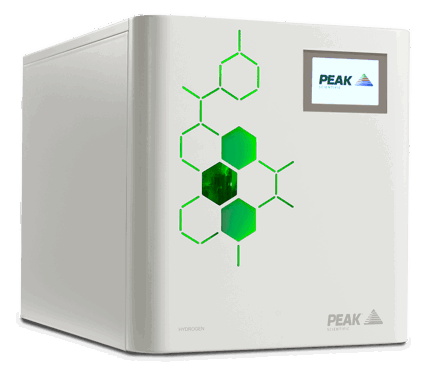 Looking for CVD gas?
Let our team of experts help you create the perfect CVD package for your needs
Benefits of a gas generator
| Gas Generator | Gas Cylinder |
| --- | --- |
| Produce gas on demand with consistent purity | Cylinder must be monitored to avoid running out of gas |
| Once installed, the system needs only infrequent maintenance | Depending on usage, cylinders can require frequent changeovers |
| Consistent purity | Inconsistent purity from cylinder to cylinder |
| Minimal gas storage volume Low pressure storage | Gas stored at high pressures in large volumes potential for undetected leaks from pipework from cylinder banks |
Gas generators use the latest PEM cell technology with patented Nafion and PSA dryers which remove residual moisture to deliver dry gas (-75°C dewpoint) at 99.99999% purity.
Gas from a Precision hydrogen generator is cleaner than hydrogen from gas cylinders - which can contain residual hydrocarbons and moisture. Hydrogen cylinders will always run out, resulting in downtime when you need to replace them. 
Unlike gas cylinders, a generator can run around the clock without the need to break the connection between gas supply and your CVD apparatus.
The perfect package for CVD
PEAK can provide everything you need to support your CVD equipment and ensure the best quality diamonds. 
The Precision Hydrogen Trace requires a supply of de-ionized water and, if you do not have this available, PEAK can provide a water purifier to help achieve the correct quality. A water bottle is available which restricts bacterial growth to maintain water quality. And, for peace of mind, we have a hydrogen detector available which will shutdown the generator should a leak be detected at any point. 
Precision Hydrogen Trace 1200
Precision hydrogen generators contain only premium quality parts to consistently perform to the highest standards, requiring only a supply of electricity and de-ionized water to produce 99.99999% purity hydrogen.

PEAK Scientific hydrogen generators are the safest way to supply UHP hydrogen. All Precision hydrogen generators meet IEC gas safety standards, with a range of safety and fail-safe features built into each generator ensuring that they pose no risk of causing fire or explosion.

Need help finding a CVD solution?
We are experts in our field - with over 20 years' worth of experience in pioneering cutting-edge gas generator technology, we have worked closely with leading instrument manufacturers to help you find a solution tailored to your specific needs.