Part number:
Status Available i
Integrated compressor No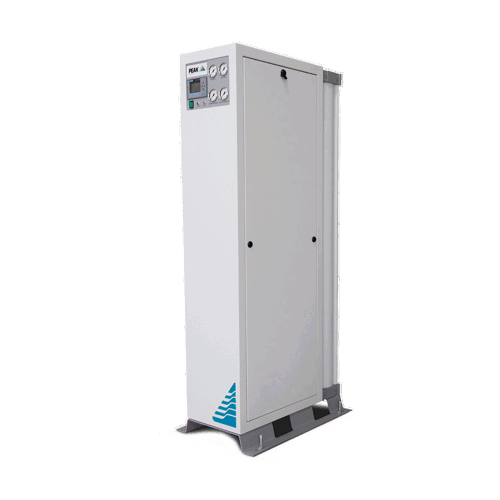 i-Flow O2: oxygen generation system
i-Flow O2 is a modular & expandable Pressure Swing Adsoprtion (PSA) industrial oxygen generator. The PSA oxygen generator utilizes synthetic Zeolite molecular sieve purification technology to supply high quality, medical grade oxygen, at up to 576L/min, at 5.0 bar pressure and consistent purity. 
i-Flow O2 provides a complete oxygen generation system, capable of producing a continuous & on-demand volume of high-quality oxygen for use in aquaculture & fish farms, sewage & wastewater treatment facilities, welding, cutting & brazing and glass-blowing and lampwork applications.
Providing an on-site source of oxygen, in addition to our standalone oxygen generation system, all equipment can be conveniently assembled onto a compact & portable metal skid plate. This configuration simplifies installation & connection to existing oxygen distribution pipework throughout your facility.
Request a quote
Features
Cost effective industrial grade oxygen, available on-demand - no more gas deliveries! 
Highly reliable & uninterrupted on-site supply of oxygen for industrial applications 
6 flow rate models available

 - 96, 192, 288, 384, 480 and 576 L/min at 90% purity, up to 95% purity available*

Verified purity, independently tested by the National Physical Laboratory
Expandable capacity, with ability to increase in line with growing oxygen needs 
Remote monitoring, live product status information at your fingertips, wherever you are
Standalone or turnkey solutions available, for rapid deployment & flexibility to move as required
Robust safety features, including purity monitoring & bypass safeguard 
Energy efficient & low operating costs, with standby mode when no oxygen delivery required
Precision engineered and manufactured in our ISO 9001 centre of excellence 
Lower carbon footprint & environmentally friendly
*flow rate reduces as % purity increases 
Gas
Min Gas Flow: 80L/min
Max Gas Flow: 420L/min
Max Output Pressure: 5psi/0.3bar
Max Purity: 95%
Site & Installation
Min Inlet Air Quality: ISO 8573-1:2010 Class 1.2.1
Start Up Time: Dependent on model
Power Consumption: 250 Watts
Voltage: 100-230 ± 10% VAC
Frequency: 50 / 60 Hz
Current: 2.0-1.0 Amp
Max Operating Temp: 50°C / 122°F
Particles: <0.01µm
Noise Level: 59dBa @1m
Dimensions & weight
Size (HxWxD) mm: 1738 x 500 x 760 mm
Size (HxWxD) Inches: 68.4 x 19.7 x 29.9 inches
Generator Weight: 197kg / 433.4lbs
General
Expand to meet demand: i-Flow O2 can be expanded to include up to 6 banks. Each bank is 160mm (6.3") and total depth of a 6 bank system including the i-Flow O2 system is 2200mm (86.61").