You're never far away from a Peak Field Service Engineer
Here at Peak we see your gas generator as the beating heart of your laboratory, enabling your analytical instruments to perform and achieve the results you need. With this being the case it is extremely important you look after your 'beating heart' to ensure the best possible results, and that's where our Field Service Engineers come in.
Since your gas generator is vital to your lab's operations, we know how important it is to ensure that any downtime, planned or otherwise, is as minimal as possible. This is why we continually invest in our dedicated team of Field Service Engineers (FSEs). In fact, whenever we invest in a new territory, our first employee is always an FSE, so that support is always available to our customers from the very beginning. 
Peak Scientific now has over 100 dedicated FSEs located in over 20 countries across every continent around the world, so that wherever your lab is, Peak can always provide you with an industry-leading rapid response service. 
All Peak Scientific FSEs are fully certified and highly skilled, and their training is updated every year. Their dedication and skill is well reflected by our 95% first-time fix rate. This means in 95% of cases where a Peak customer has experienced an issue with their gas  generator, our FSEs have been able to resolve the problem on-site at the customer's laboratory on their first visit.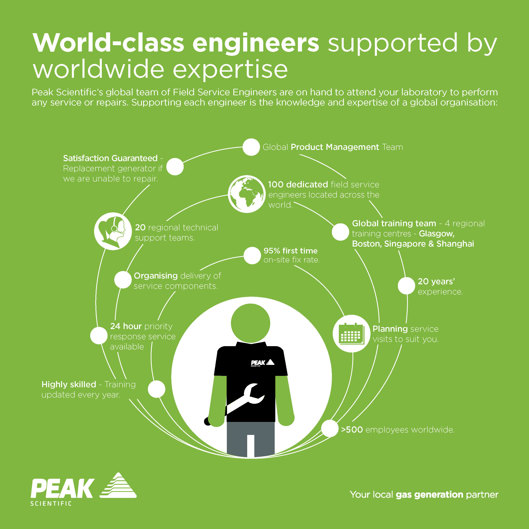 [Peak Protected] generator maintenance plans. With [Peak Protected], your laboratory's productivity becomes our top priority. This world–class after sales support not only keeps your Peak gas generators in great condition, but guarantees superior performance throughout the product life span.
The Peak Protected maintenance service has always been very good and the dedicated Peak Service Engineer that visited our laboratory was very professional and helpful.

(CHENG SHARON, The Chinese University of Hong Kong)
To learn more about [Peak Protected]
Found this article interesting? You might also like:
Tips and Tricks for Gas Chromatography
Free World Cup 2018 Wall Planner
What sets Peak apart from the competition?